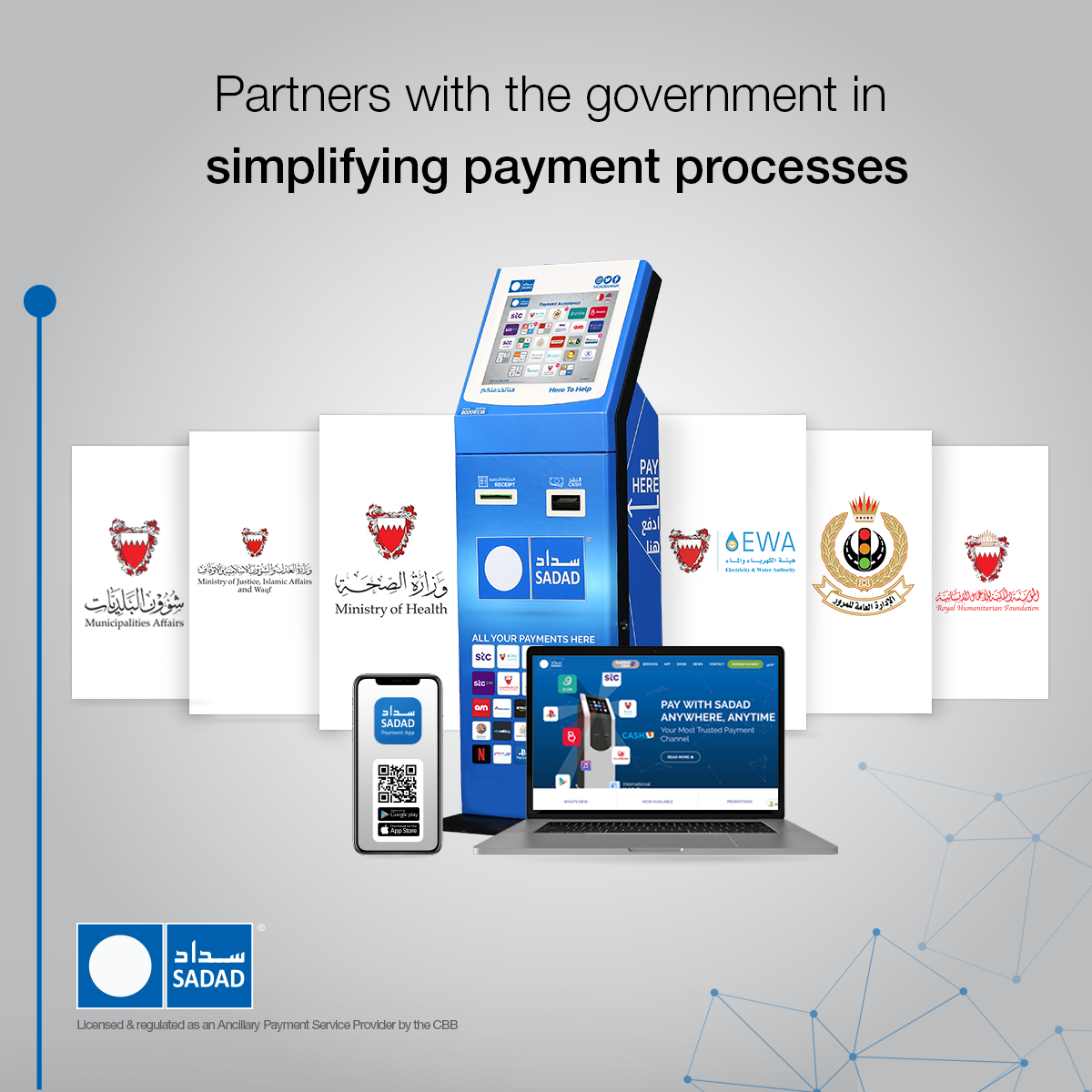 SADAD, the Kingdom's most trusted innovative payment channel, has announced its partnership with the Bahrain Government to offer customers a simple and convenient method to pay any outstanding amounts on a substantial number of Bahrain's government services, in line with the Kingdom's 2030 vision of electronic transformation of all government services.
Multiple ministries and their respective departments have either already gone live or in the process of going live with SADAD Payment Channels. The services are provided by the government to individuals, businesses and governmental entities who wish to inquire about the payment of government-issued bills and outstanding amounts within the Ministry of Health, Ministry of Justice, Municipalities, and the General Directorate of Traffic. In order to access their information, the service requires users to input their details and select the required entity at the SADAD kiosk, website or App in order to process their payment requests to any of the organizations and government services available. As the most innovative payment channel, SADAD's services will enable customers to pay their outstanding and billable amounts with ease at any time and on any device, while eliminating the need to wait. SADAD is the only digital platform within the Kingdom to provide a multi-payment feature, enabling customers to pay all their government-issued bills with one click. For example, customers can complete their GDT transactions through one of SADAD's kiosks, all they have to do is enter their personal and vehicle details to proceed to payment, while other services available include renewal and registration of vehicles, as well as license renewal.
SADAD provides clients with more payment processing options, demonstrating their ability to deliver convenient, fast and secure payment services that allow for ease of payments of all government services while staying safe in the current pandemic situation. By launching these services, SADAD adds even more convenience to the experience of their customers by covering a wide range of government entities, all at the click of a button. As the Kingdom's most reliable payment channel to provide a multi-payment feature, SADAD provides customers with a one-step convenient process of paying postpaid bills, electricity and water bills, purchasing prepaid vouchers and digital gift cards for iTunes, Google Play, Ebay, Amazon, Playstation and X-box.
SADAD's online bill payment services enable customers to pay anywhere, anytime and from any device. With SADAD's added iOS and PCI security, the platform is currently the most trusted payment channel in Bahrain. By simply downloading the SADAD app which is available for iOS and Android users, customers can utilize a completely mobile-optimized experience that is compatible with any smartphone, computer or tablet. Alternatively, customers can visit the SADAD Self Service Kiosks, open 24 hours in over 1000 locations across the Kingdom.